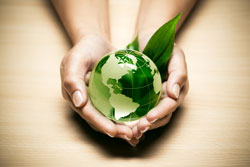 Assmann stands for – Green IT
ASSMANN Electronic GmbH has been a worldwide active producer and distributor for high quality components for the electronic industry for 45 years. Our employees, suppliers and partners have been working together with us in trust for many decades now. So we observe the guidelines of the RoHS and REACH Regulation.
On request, we can provide you with our RoHs and REACH Declaration of Conformity, also in written form.


According to the European Environmental Guideline RoHS (Restriction of Hazardous Substances), certain hazardous substances may not be used for electrical and electronic devices.

Since 1 June 2006, the EU Guideline 2002/95/EU has allowed only minimal traces of lead (Pb), cadmium (Cd), mercury (Hg), chromium VI (Cr-VI), polybrominated biphenyls (PBB), polybrominated biphenylethers (PBBE or PBDE) in devices and products.

All products we deliver from current production meet the requirements of the RoHS Guidelines. This means that our products contain none or the allowable quantity of the substances named in this regulation.

We assure you that we are doing whatever is necessary to supply you with the proven quality of our products also in the future.
REACH Regulation at ASSMANN
The REACH Regulation (EU No. 1907/2006) of the European Union went into effect on 1 June 2007. The goal of this regulation is that all substances produced, imported and used in the EU have no negative impact on health and environment.

We are aware of our obligations towards the REACH Regulation and are committed to the protection of human health and the environment. ASSMANN Electronic GmbH does not produce any chemical substances. We deliver only "products" that are not defined as "substances" or "preparations". None of the products that are manufactured and imported into the EU by ASSMANN Electronic GmbH release substances when used properly.

None of the products we deliver contain any of the substances listed in the SVHC beyond permitted limits. Thus the mandatory registration of substances according to the REACH Regulation does not apply to our manufactured and imported products.

However: We support the overall goal of the REACH Regulation and ensure that our partners and suppliers also act responsible according to the REACH Regulation and meet all conditions. We are at your disposal for any questions you might have.