The right partner for you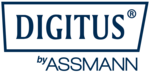 The ASSMANN Electronic GmbH as a manufacturer offers a wide range of high-quality products around data network technology and network infrastructure, IT components and ICT accessories as well as smart daily helpers in digital life.
Strong Brands under one roof
ASSMANN group, headquarters Lüdenscheid, Germany, has a broad spread with its brand DIGITUS®:
▪ DIGITUS®
Strong brands like DIGITUS® and ASSMANN form our range of active and passive network components, KVMs, cables, adapters and plug connections makes ASSMANN one of the leading suppliers for the electronic industry in Germany and throughout Europe.

Products of the DIGITUS® brand are preferred by technically well-versed and interested consumers. The DIGITUS® range includes cables for audio, video and computer as well as adapters, mobility products and audio accessories.
We increase the productivity, efficiency and flexibility of our customers with our high quality products, our industry expertise and with that our closely related service.
Thanks to our subsidiaries and our numerous international partners we offer worldwide service.