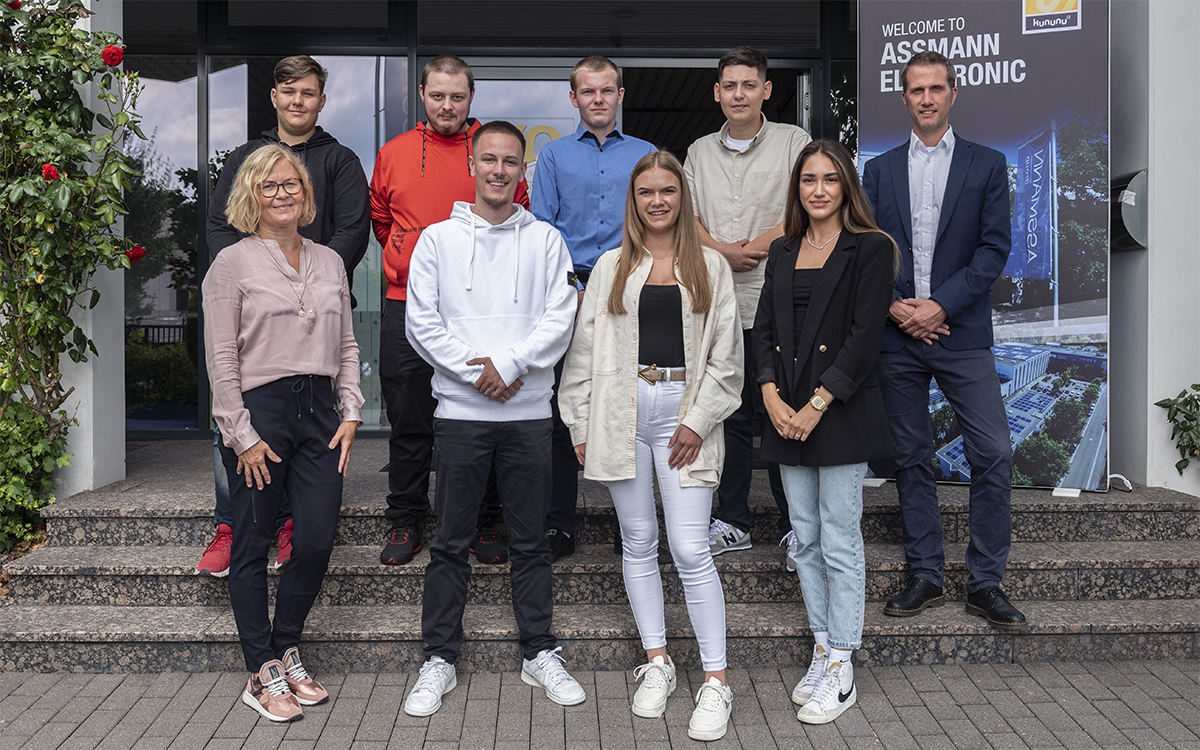 (from left to right: 1st row: Kirsten Zulauf (trainer), Luca Knoche, Laura K., Gözde Gül; 2nd row: Pierre Lange, Kevin Prange, Sean Krummel, Emre Odabas, Phil Penninger (Managing Director)
Lüdenscheid, 08.08.2022 (PresseBox) - Assmann Electronic continues to focus on the promotion of young talent and is once again providing training in 2022. This year, as many as seven young adolescents will start their training in five different professions at the Lüdenscheid-based solution provider for server, network and peripheral infrastructure.
From 01.08.2022, the Lüdenscheid-based company welcomes seven new apprentices at Assmann Electronic GmbH.
Gözde Gül: Trainee in wholesale and foreign trade
Emre Odabas: Trainee in wholesale and foreign trade
Laura K.: Trainee for Office Management
Luca Knoche: Trainee in E-Commerce
Pierre Lange: Warehouse clerk
Kevin Prange: Warehouse clerk
Sean Krummel: Trainee in Marketing Communications 
Young talent for established apprenticeships
In the future, Gözde Gül and Emre Odabas will start their apprenticeship at Assmann Electronic in the area of wholesale and foreign trade. Laura K. will start her apprenticeship as a management assistant for office management and Sean Krummel will gain insights into the work of the marketing department as a management assistant for marketing communication in the future.
In logistics, Pierre Lange and Kevin Prange will begin their training as warehouse specialists at the Lüdenscheid headquarters on August 1, 2022.
From digitization to the profession
After the Lüdenscheid-based company in 2019 belonged to a manageable but growing number of companies that were already allowed to train merchants in e-commerce and trained in this area for the first time on 01.08.2019, Assmann Electronic will allow Luca Knoche to train as a merchant in e-commerce from 01.08.2022.
The company thus continues to focus on the future of digitization and, in this context, the promotion of young talent in this exciting growth field.
Strong training company in the region
This year, Assmann Electronic is once again laying the foundation for a diverse, qualified and exciting training program for five apprenticeship professions and is now fulfilling its training mandate with a total of 15 apprentices.
Award-winning employer: kununu names Assmann Top Company 2022!
Even before the start of the new training year, Assmann Electronic received the "Top Company 2022" award. Every year, the online rating platform kununu honors the most popular employers in the DACH region with this seal, and the Lüdenscheid-based company and its new trainees are among them.