The brand DIGITUS®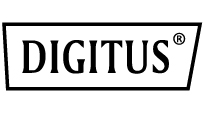 DIGITUS® is one of the best-known brands of ASSMANN Electronic GmbH. In 1994 it was born from the idea of an increasing demand for technical products that were of high quality and at the same time friendly to the environment. Meanwhile, DIGITUS® has been successfully implemented on the international market for 20 years now. DIGITUS® products are sold in over 50 countries. Production and sales are subject to regular self-monitoring and are certified according to DIN EN ISO 9001:2000 and the environmental standard DIN EN ISO 14001.
The selection of user-friendly and reliable DIGTUS® products is oriented basically on current market developments. Especially notable is the trend of living and working space technically merging together.
This sets entirely new requirements for the products and in particular for design. For this reason, experienced product designers are regularly entrusted with the development and design of our products. It is therefore no coincidence that our products fit seamlessly into modern living spaces. Our success proves us right.
The DIGITUS® Product Groups
Such as HD media players, webcams, USB graphic adapters, DVB-T receivers, speaker systems, headsets, Bluetooth speakers, multimedia microphones, computer mice, computer keyboards, USB hubs, card readers, adapters, converters, notebook bags, notebook accessories

Such as Wireless LAN routers, broadband routers, print servers, network IP cameras

Such as KVM pockets, cables, KVM switches, video extenders, video splitters
Such as monitor cables, video cables, HDMI cables, printer cables, DVI cables, USB cables, firewire cables, eSATA cables, MHL cables, telephone cables, power supply cables

Such as smart phone and tablet cables, charger cables, licensed Apple® cables
More information about the brand DIGITUS® and the DIGITUS® products can be found here on our social media websites.