The ASSMANN Business Shop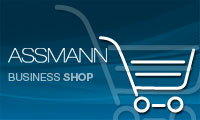 The ASSMANN Business Shop is the central tool for our partners and business customers. Find all ASSMANN 5,000 products clearly in the various product categories sorted.

Each partner receives his individual request for access to the ASSMANN Business Shop. Here you can check products from our brands DIGITUS ® Professional, DIGITUS ® and ednet and order them directly.


In addition, the shop offers you following helpful features for you:



Current data sheets for all products
Detailed product descriptions
Technical details
Information on the packaging
Support as current firmware and manuals
Ability for a direct product compare
Possibility to search for archive articles

You will also find the following product areas in the shop:



New products
Hot deals
Top seller