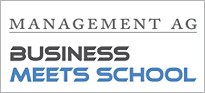 Experience economy live – The Management AG
A group of regional companies started a series of events, the Management AG, 10 years ago for the career orientation of students of Lüdenscheid secondary schools.

Under the motto "Business Meets School", 11th and 12th graders find out about important work and career areas from 13 companies and 17 speakers in a total of 19 events.


Press report "Management AG at Scholl Gymnasium initiated"
11/22/2012 | 2:14 p.m.

Lüdenscheid. With a lecture by Florian Assmann, CEO of Assmann Electronic GmbH, about the fundamentals of business management. The 11th Management AG of domestic companies for students of Lüdenscheid secondary schools started at the Geschwister-Scholl-Gymnasium.

13 companies with 17 speakers participate in the AG under the motto "Business meets school". 19 events are planned to give young persons insights into professions from medicine, law, economy and technology.

19 events

High school students in the 11th and 12th grades have the chance to receive insight view into the working routine of business people, lawyers, physicians and engineers.

It will be all about marketing, EDP, tax consultancy, matters of the law, medical fundamentals and much more. Four excursions are part of the AG. Of the four fields of profession mentioned, the focus will be on conveying knowledge in the areas of training, basic knowledge and daily practice. Traineeships during the holidays is also possible.

The companies pursue two goals with what they offer, according to Management AG co-founder Florian Assmann. The AG should bring clarity to those who have already chosen a profession they would like, whether their perceptions match the profession they wish to pursue or, if not, whether a new orientation is necessary.

For those who have not yet decided, the AG should bring up possibilities, inspire and help them to choose the right profession. The AG takes place every Tuesday from 6:00 p.m. to 7:30 p.m. The Geschwister-Scholl-Gymnasium (high school) will provide the adequate rooms (Room 107 and Aula). So far, 36 high school students have registered for the AG, explains Management AG coordinator Gaby Hübner. If you wish to join us, you can sign up by e-mail at info@assmann.com for the company's voluntary offer. The AG is limited to 50 participants. The final event will take place on 2 July 2013.