A great day for ASSMANN – the DIGITUS® Plug&View system awarded the IT Innovation Prize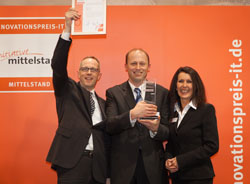 At CeBIT 2013 in Hannover, the ASSMANN team was awarded the IT Innovation Prize 2013, in the category Regional Winner for North Rhine-Westphalia. The prize winner is the Plug&View IP camera system, which not only convinced the expert jury of the Mid-Sized Businesses Initiative but also enthused visitors and journalists at the trade show.

The image shows Harald Kintzel, the Technical Director at ASSMANN, proudly receiving the prize from the two managing directors of the Mid-Sized Businesses Initiative, Beate Heider and Rainer Kölmel.

The Innovations Prize of the Mid-Sized Businesses Initiative has been honoring mid-sized companies for the best IT solutions for ten years now. The IP security cameras and the entire system totally convinced the expert jury – consisting of 100 professors, scientists, industry representatives, IT experts and specialized journalists. "What a fantastic debut as a developer", raves Karola Bode, Managing Director of Sales & Marketing at Assmann. "Digitus Plug&View cameras, including the software, were completely developed by us and reflect our competence and focus on our customers. Our goal was to create an innovative, high performance state-of-the-art camera solution that is also easy to install and use. We succeeded in doing so with Plug&View and received the recognition of the jury, whom we would like to cordially thank!"
This way to the website of the Digitus® Plug&View Camera.